JFT Update
May 18, 2021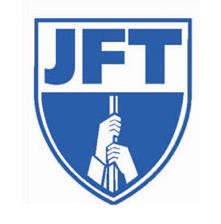 JFT General Membership Meeting
The last General Membership Meeting of this school year will take place on
Tuesday, May 25, 2021 at 5PM via Zoom
.
AFT/JFT Innovation Grant
JFT Innovation Grant - Seeking Individuals Skilled in Technology    
Are you tech savvy? Do colleagues come to you when they have questions about technology? Do you know the most common tech issues that come up at your school, and how to resolve them? If so, JFT is looking for YOU!  
JFT is seeking members who are talented with technology and gifted in teaching people how to use technology. We are hiring a team of curriculum designers to work for several afternoons in early June to design a technology training program for our PSRPs and for JPS community members. We are also hiring a team of facilitators to lead 6 PRSP trainings (of 3 hours each) in June and July.  
Initial application deadline is: May 21, 2021. Applications will be reviewed on a rolling basis, so please apply ASAP.
JFT T-Shirts
On behalf of PSRP appreciation (March) and teacher appreciation (May), each JFT member should have received a t-shirt. Our PSRP shirts were designed by our outstanding PSRP committee! If you are a JFT member and you have not received your shirt, please email
lmarino@jft.org
with your size. Shirts can be picked up from the JFT office between 8:30 am and 4:30 pm.
As a show of solidarity, we are requesting that all JFT members wear their shirts on Thursday, May 27, 2021.
TRSL
JFT Retirees

Congratulations to all employees retiring at the end of this school year! Thank you for your service and dedication! JFT members can remain involved through the JFT retiree chapter. Please email
ben@jft.org
for more information.
News from Baton Rouge
LFT Legislative Update
The Legislative Session is entering its sixth week and LFT is tracking hundreds of bills with the potential to impact Louisiana teachers, school employees and their students. Our primary areas of focus include legislation around teacher & student evaluations, ensuring a pay raise for teachers & school employees, protecting employees' union rights and protecting public funding sources for public education.
Here are just a few of the most recent updates:
Pay Raises: Last week, the Board of Elementary and Secondary Education held a Special Meeting to consider the MFP recommendation from the legislature regarding teacher and school employee pay raises. As you may remember, previously the legislature sent the MFP back to BESE to ask that they include more funding for teacher and school employee pay raises. At the meeting last week, BESE voted to amend their MFP proposal to match the recommendation from the Louisiana Legislature. BESE's MFP proposal now includes an $800 raise for certified personnel and $400 for classified employees.
Today, the Revenue Estimating Conference will meet to re-consider revenue projections for this year, and it is expected that there will be a surplus. LFT will continue to work to ensure that any additional revenue is used to fund teacher and school employee raises.
Removing SLT's from Teacher Evaluations: Last year, LFT was successful in passing legislation that would ensure VAM could not be used in teacher evaluations for this year. Now, we're working with multiple legislators to enact a resolution that would extend that protection to include SLTs. Unfortunately, the previous legislative instruments that had been designed to accomplish this goal are no longer viable (SB 35 & SB 117). Thankfully, there are some legislators dedicated to protecting the rights of teachers who have risked their health to show up for our children during this incredibly difficult year. We expect to see the Resolutions on this issue offered this week in both the House and the Senate.
You can learn more about the legislative session on
our website
or sign up for the
LFT Action Alerts
to get regular updates sent directly to you. And don't forget to follow us on
Facebook
for the most up to date information as it unfolds at the capitol.
BAE-United Rally in New Orleans
JFT leadership will join United Teachers of New Orleans and other allies for a rally in support of Bricolage Academy Educators United (BAE-United) on Friday, May 28th at 7 A.M. Later that day, the NLRB will conduct a union election at Bricolage Academy.
This will be an opportunity for us to show our support for our newest union sisters and brothers as they go in to vote for their union. The rally will be short so it is important that you be on time, and please wear your Union shirt! If you would like to join us in support of BAE-United, please let them know by completing this R.S.V.P. form.
BAE-United Support Rally
7:00 A.M. outside Pagoda Cafe
1430 N Dorgenois St. - New Orleans, LA 70119
Volunteers Needed
If you are interested in being a part of an academic student looking at administrative support in student-directed violence in Louisiana Urban Schools, please contact studentviolenceonteachers2021@gmail.com.